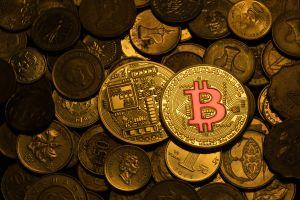 As one may find Bitcoin price forecasts for this year ranging from USD 22,000 to USD 60,000, Tuur Demeester, a popular economist and bitcoin-investor, warns that the number one digital currency may be headed for lower prices before the end of the year. However, China may help bitcoin, he adds.
Despite many people having called a bottom in bitcoin prices at around the USD 5,700 level seen in June, Demeester argues that on-chain activity on the bitcoin network still does not support its current valuation.
Demeester, who first recommended bitcoin as an investment when it was at USD 5 in 2012, writes in the article that bitcoin miners have faced a decline in profitability of 90% over the course of 7 months. He goes on to explain that miners therefore are forced to sell off a large portion of their mining rewards just to cover their operating expenses.
Bitcoin price chart: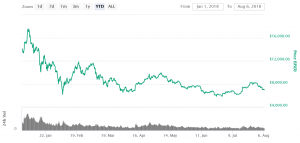 Next, Demeester predicts that we might have to wait until next year before a bitcoin-based exchange traded fund is approved in the US. Although he acknowledges that there has been a strong uptick in institutional interest for bitcoin this year, Demeester points out that most of that interest comes from trading firms and market makers. In other words, these are institutions that don't necessarily hold bitcoin as an investment, but rather makes money off of the volatility or by making markets.
"Institutions who are known to be long biased, such as mutual funds and pension funds are not ready to invest because they're not yet comfortable with the available custody solutions," Demeester argued in his article, shared with more than 170,000 of his followers on Twitter.
Despite his no-so-positive outlook on price this year, Demeester also sees several positive developments that could trigger a price rally.
Among these is the possibility that we could see a new wave of Chinese capital flowing into bitcoin as a result of depreciation of the Chinese yuan this year. Due to capital controls in the country, bitcoin is an attractive option used by some people to move capital out of the country.