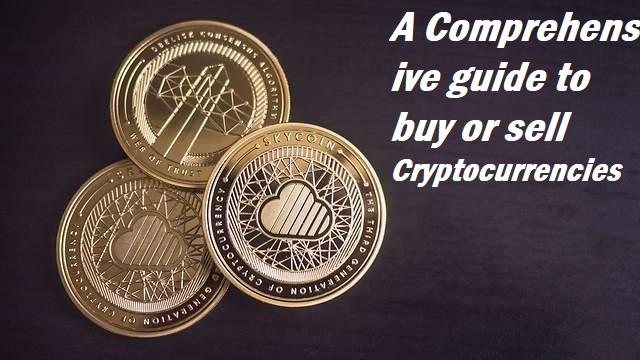 Are you searching on Google how to buy Cryptocurrency online? If so, Cheers! You are in the right place. If you are going to embark on your journey to a Cryptocurrency market, then this is the best guide to get started. We will go through every step together to make this process simple and easy.
From here, not only you learn how to buy Cryptocurrency, but you will also learn everything that you need to know before buying Cryptocurrency. We want all of your investments are safe and secure. The best part, it is going to be a lot easier than you think.
I remember when I first Google searched "How to Buy Cryptocurrency" a few years ago, it was really overwhelming. There was a lot of conflicting information, confusing terms, and so many different exchanges of cryptocurrencies to choose from. Whatsoever, let's get started.
There are three most important things you need to know before transforming some of your wealth into digital assets like Bitcoin, Athyrium, and other cryptocurrencies.
   Buy Bitcoin On Binance and Get $10 Reward
1. Things you should keep in mind
These types of investments or cryptocurrencies are not related to banks, credit cards. You can not complain if you lose your funds from hackers or any other cheaters.
Virtually, there is no safest place to protect you if you make a mistake or if you don't understand what you are doing.
There is no communication number you can call when you get stuck.
There are no offices to reach out if you lose your funds.
2. The Golden rule of investing
We know high risk can reward anyone with high profit. As humans, we want to get the highest peak without thinking about the future. We recommend you figure out a comfortable amount that you can easily bear, and this is the golden rule of investing if you want to shine like the sun in the crypto market.
3. Exchanging Bitcoins
Be aware before exchanging bitcoins because there are many scam exchanges that can steal your coins.
How to buy Cryptocurrencies through Binance
Binance is one of the most important and popular Cryptocurrency exchanges. It is founded in 2k17, based in Malta.
It operates several exchanges such as Binance US, Binance Singapore, Binance Jersey, and Binance.com. Binance is a global Bitcoin exchange that allows you to trade cryptocurrencies.
Step 1:
Go to Binance.com and register an account.
Step 2: 
Complete the SMS and Identity verification.
Step 3:
Choose the currency from the currency section. The default currency is "RUB".
Step 4: 
Now, go to the "Buy Crypto RUB" section and select P2P Crypto exchange. You can also access the P2P trading from the "SPOT" tab.
Step 5:
Choose USDT on the buy tab, and after clicking on it, you will see the trade advertisement offered by the users or merchants. You can filter the ads by put the price, fiat currency, and payment methods. Suppose you want to buy USDT equivalent to 100 RUB, then enter 100 in the amount column and select all payment methods and click the search icon. You will see the corresponding ads.
Step 6:
After seeing the corresponding ads, click on the "BUY USDT". Enter 100 RUB and choose bank transfer as the payment method and click buy now. After that, you will see the order details and the seller's payment information.
Step 7:
Copy the Payee information to make payment as instructed. The RUB transaction is made out of the Binance platform between you and the seller.
Step 8:
Don't forget to check the Payee information and complete the transaction within the time limit. Once the payment is made, mark the order as paid, and then confirm. The seller will provide the Crypto after confirming the payment is received.
Binance Pros:
Binance offers basic and advanced trading services as well as feature and margin trading. It means you will get around nicely whether you are just starting out or an experienced trader.
Binance offers a brokerage service that allows you to buy cryptocurrencies with a credit card. You should keep in mind that this service is more expensive than trading on a platform but is also much easier.
Binance funded its initial operation through an ICO, a crowdfunding mechanism where every investor received tokens. The token is aka Binance Coin or BNB. The most interesting part is, you can trade this kinda coin on other currencies.
The Binance fee structure is attractive. It takes a flat of 0.1% fee for most trading activities.
You can get 25% off when paying with BNB.
LocalBitcoin Review
LocalBitcoins is another leading global network for Cryptocurrency exchanges. Not only US, UK but also prominent in other countries. However, here, I will walk you through some of the features of LocalBitcoins.
Can I trust Localbitcoins?
The short answer is yes.
It was established in 2012.
Office: Finland
CEO: Nikolaus Kangas
Payment Gateway: Escrow
Security: The security is very strong. It has never been hacked.
Support Team: Skilled, Legit. They respond asap if you reach them regarding any issues.
Coinbase Review:
Coinbase is completely licensed and regulated to exchange bitcoins. Coinbase's buying process is one of the easiest and fastest. They support several payment methods like wire transfer, credit card, or debit card. The structure of fess consists of a 0.5% premium over the market price plus a transaction fee relative o the amount transacted.
It's important to know that Coinbase is a custodial service. It means if don't have any straight access to the funds at Coinbase or the private keys controlling them. Please note that, in some cases, Coinbase can close a user account without prior notice if they find any suspicious activity. But the customer support response time of Coinbase is a little bit slow. However, Coinbase is an excellent place to buy or sell cryptocurrencies.
If you have any questions about Bitcoins please do let us know by commenting in the comment section below. We'd be glad to answer your questions.