Ripple's XRP token shows a remarkable resilience to the global stock market sell-off this week. Of course one day does not make a market, and we realize one week does not make a market neither. But the evidence is growing that Ripple has started its new bull market with its breathtaking breakout of September 20th.
Let's jump right away to the conclusion: we believe that Ripple (XRP) sellers have left the arena. Consequently, only buyers can create an effect on price, and that is an upward effect.
When there are no sellers left, there is only buyers in a market where synthentic short selling is not possible (as is the case with Bitcoin futures).
The traditional correlation between XRP (but also most other cryptocurrencies) and the Nasdaq index seems to be weakening. That's of course great news for crypto bulls, especially Ripple (XRP) bulls. It certainly suggests that Ripple is on its way to become the new Bitcoin.
We wrote about the correlation between the Nasdaq and cryptocurrencies earlier this month.
Note on the Ripple chart embedded below how the Nasdaq index sold off 3 times in October 2018:
The first sell off in the first week of October triggered a significant sell off in XRP
The second one (October 11th) triggered a crash in XRP with a decline of almost 30%.
The third one (yesterday) hardly impacted Ripple's price.
This recent resilience is remarkable, and it learns one thing: sellers have exhausted in the area below the structural support which is below $0.40 (below the large blue bar on the chart).
What does this suggest according to us? These are early signs of the new crypto, especially Ripple, bull market. They are a confirmation of our thinking. We forecasted to our InvestingHaven.com premium crypto subscribers on January 27th 2018 in the midst of a cataclysmic crypto crash that (1) the crash would end around summer time (2) the first phase of a new bull market would start right after summer. It eems that we are fully on track for this outcome.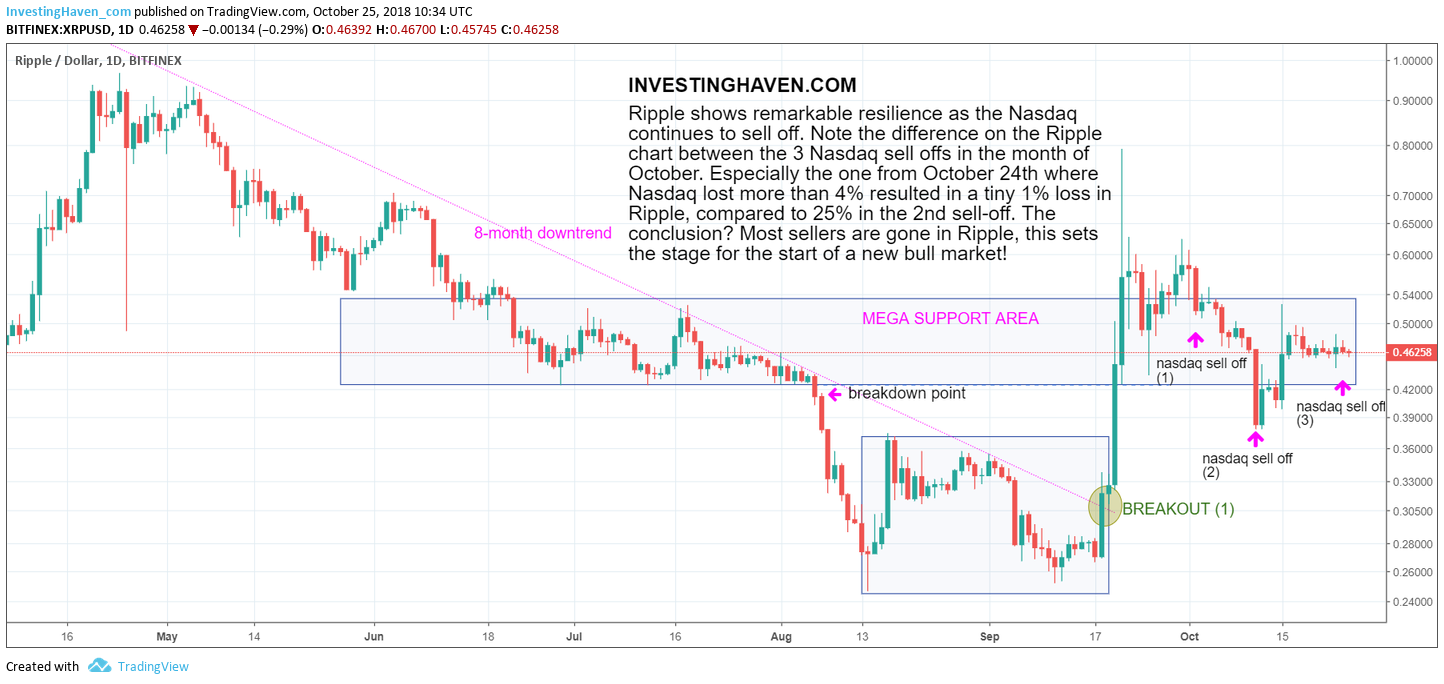 Please make your own research, neither the website, nor article writer are responsible for your potential loss of investment.